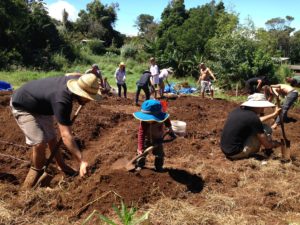 Farm and Garden Tour
Join Evan Ryan for a tour of Pono Grown Farm Center in Makawao on Sunday, April 9 from 9am to noon to celebrate the launching of the new resource book Hawaii Home Gardens. Pono Grown Farm Center is a 501c3 non-profit organization focused on agricultural education with a mission to increase the connection people have to the land, and empower them to better care for it. The production and educational farm hosts a diverse landscape that includes a half-acre of vegetables, a two-acre food forest, extensive orchards, a medicinal herb garden, native plantings, chickens and bees.
Evan is the executive director of Pono grown Farm Center and co-author of the book Hawaii Home Gardens. He has been an agricultural landscape consultant, designer, farmer, project manager, and educator in gardens and farms throughout Maui. His focus is applying holistic design and permaculture systems to production agriculture, and integrating these principles into home gardens, orchards, and commercial systems. Please write to evan@ponogrown.org or call 808-269-9356 for directions and to reserve your spot on the farm tour.
Join our mailing list or Facebook page for continued updates on courses, workshops and gatherings!