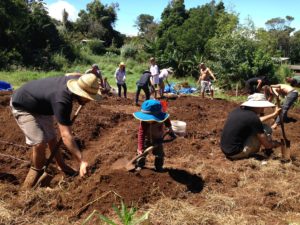 Reserve a 1.5 hour tour of Pono Grown Farm Center in Makawao.  Reservations must be made 1 week in advance.
Introduction to Edible Landscaping with Evan Ryan-  June 7, 9am-noon Register

Discover the beauty and health potential of a backyard planted with food crops. This 3-hour workshop will introduce the concepts of design, the choices of annual and perennial food crops, and the beauty that can be achieved by inviting those food crops to be your ornamentals.
Introduction to Permaculture Design with Evan Ryan August 4 and 5, 8am- 5pm  Register
Learn the fundamental principles of permaculture design from Evan Ryan, founder of Pono Grown Farm in Makawao. Gain an understanding of how to recognize patterns in natural ecosystems and apply the principles to garden and landscape design.
Pruning Fruit Trees with Evan Ryan August 2, 4pm-7pm  Register
This 3-hour hands-on class covers the basics of pruning a variety of fruit trees for tree health, good form and fruit production. Explore a thriving fruit tree orchard at Pono Grown Farm in Makawao, and see best practices first-hand.
Join our mailing list or Facebook page for continued updates on courses, workshops and gatherings!